Reprinted by SMITHERS
Based on newly published research, Smithers outlines four of the key trends driving the market for printed Food Packaging.
Printed food packaging
is used for the primary packs of foods and beverages that are supplied direct to consumers. According to a new report from Smithers on
The Future of Printing for Food Packaging to 2023
, in 2018 the global market for printed primary food packaging is $227.2 billion and 79.4 million tonnes, with a printed area of 394.6 billion square metres.The market is forecast to grow at a compound annual growth rate of around 3.6% from 2018 to 2023, with the global market reaching a value of $271.3 billion, equating to 95 million tonnes and a printed area of 472.4 billion square metres by 2023.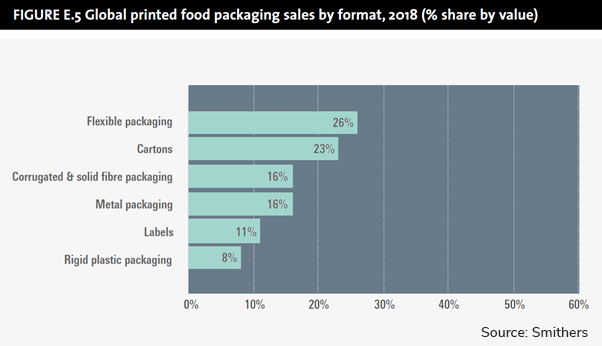 A range of both technology- and consumer-related trends will drive this forecast market growth. Four of the key trends identified by Smithers research are discussed below.
Lightweighting
The food and packaging industries are, where possible, reducing the weight of packaging – to make cost savings from reductions in material requirements and lower transportation costs. All packaging materials are affected, particularly the inherently heavier glass and metal packaging formats. Continuing developments in the designs of flexible packaging pouches are extending their use for a wider range of foods and drinks to replace heavier glass, rigid plastic or metal packaging.
Lighter weight PET bottles are increasingly being used for beers and non-alcoholic drinks in place of metal cans and glass bottles. The shift to flexible and rigid plastic packaging for an increased number of food and drink products has gradually eroded metal packaging demand over the last five years, with this trend expected to continue up to 2023. In turn, there are implications for providers of printing inks, and compatibility with food-safe practices.
Sustainability
Most food packaging is single-use, and enters the waste disposal process once the food or drink has been consumed. Packaging materials such as metal cans, glass bottles and paperboard cartons are relatively easy to collect and recycle; but there is growing concern around the world about the level of plastic packaging that is going to landfill, for incineration or into the environment.
Leading brand owners, retailers and packaging companies are taking an active approach to this problem, and have either established their own initiatives, or are working with organisations such as the Ellen MacArthur Foundation toward a target of 100% reusable, recyclable or compostable packaging by no later than 2025.
One factor in the sustainability of packaging relates to deinking. The quality of recovered material from recycling processes for plastic and board food packaging depends on whether inks and overprint varnishes used to decorate and label the packaging can be completely removed. The success in removing these inks varies significantly between paper and board waste and plastic waste.
Growth of water-based and UV/EB inks
Water-based and UV/EB inks have shown the highest growth rates in the printed food packaging market over the past five years, as printers in all geographic regions have been subjected to environmental regulations on VOC emissions and wastes from their production processes. These two ink types continue to exhibit the fastest growth rates up to 2023.
Water-based inks have longer drying times than solvent-based inks, under the same drying conditions. This restricts the growth in the use of these inks on some high-speed print lines despite their environmental advantages – although porous substrates such as paper and board are less problematic at fast print speeds. The limitations on speed of drying on non-porous substrates such as flexible packaging are less of a barrier when used for the shorter production runs that are now becoming more commonplace.
The growth in the use of UV inks may be further boosted over the next five years by a greater adoption of UV-LED lamps on print lines. Although these lamps are more expensive than mercury arc types, they are easier and more economical to use and generate little or no heat during operation, opening up their use for thermally sensitive packaging materials. The cost of UV-LED inks is also higher than that of conventional UV inks, restricting their wider adoption until material costs can be reduced.
Fast growth in Asia markets
The Asia-Pacific region has exhibited one of the fastest regional growth rates over the past five years, increasing its share of global printed food packaging demand from 35% of the value in 2013 to 37% by 2018. The growth in value of printed food packaging in North America was slightly lower than that for the global market from 2013 to 2018; while sales value in Western Europe, grew at a slower rate over this period, with the result that the region`s share declined.
Asia will continue to lead the growth in food packaging demand from 2018 to 2023, particularly from the two key economies in the region of China and India. The Middle East already has high urbanisation rates, but the packaged food and drink market still offers a high growth potential. Eastern Europe, Latin America and Africa also offer good growth potential over the next five years – but as they start from a low base they will still only account for a minor combined share of global sales by 2023.

These and other key trends in printed food packaging are analysed in The Future of Printing for Food Packaging to 2023.